VOICE ALARM SYSTEM
Commissioning & Maintenance:
Commissioning and Maintenance of Voice Alarm Systems
Tech X can provide voice alarm system commissioning and system maintenance including routine inspections in accordance with BS5839 Pt8 and EN54-16.
Regular system maintenance and tests for audibility and speech intelligibility is a requirement of these standards and helps ensure that systems are kept fully functional in preparation for emergency evacuations etc.
Routine maintenance visits
Visits will be scheduled either quarterly or six-monthly and tests will be carried out in accordance with BS5839 pt8.
How Tech X Can Help You
Tech X can offer a complete service for voice alarm, public address system design and loudspeaker layouts. Our systems are hand built using products that have a proven reliability record in line with the latest regulations for PAVA systems.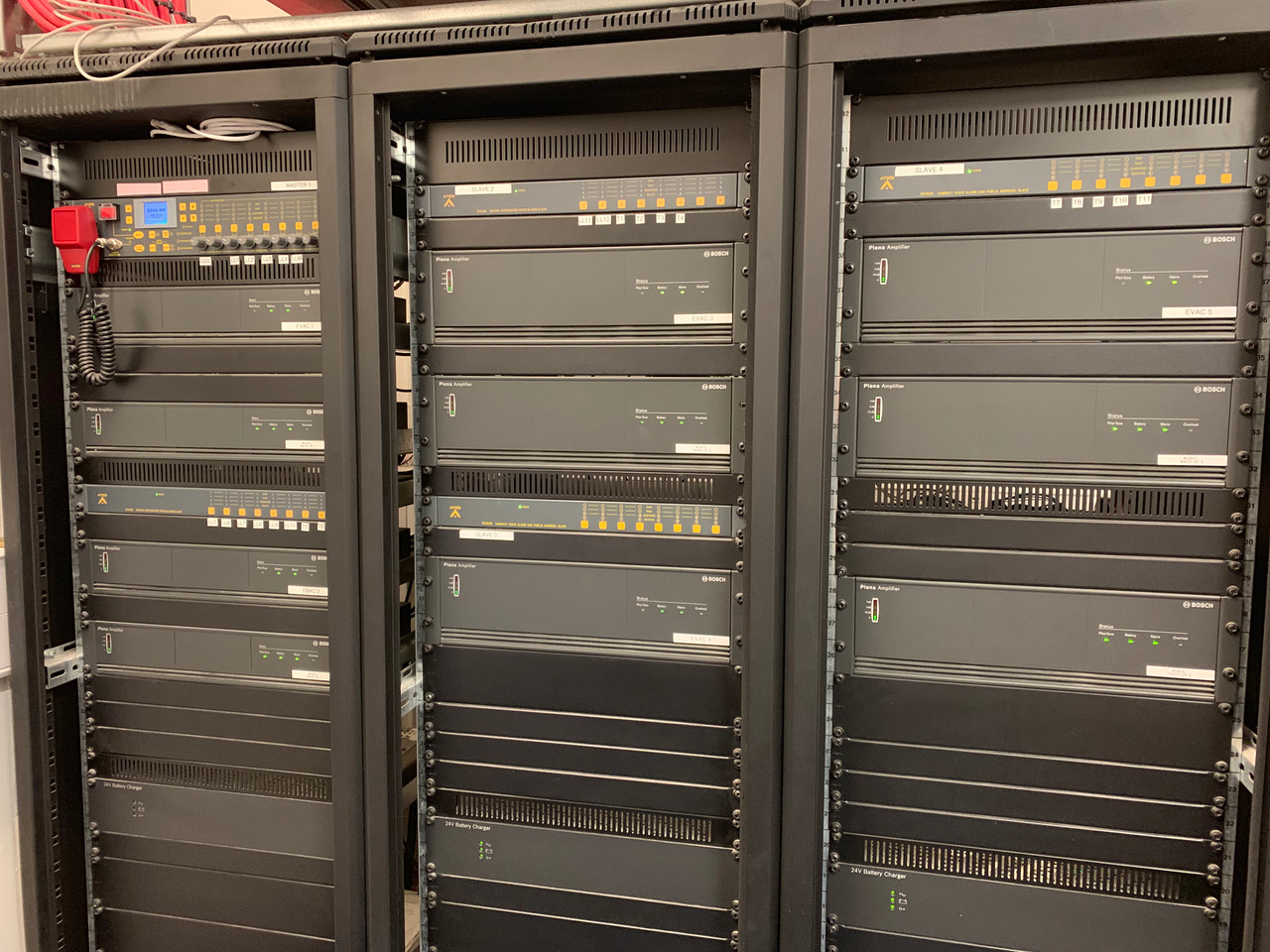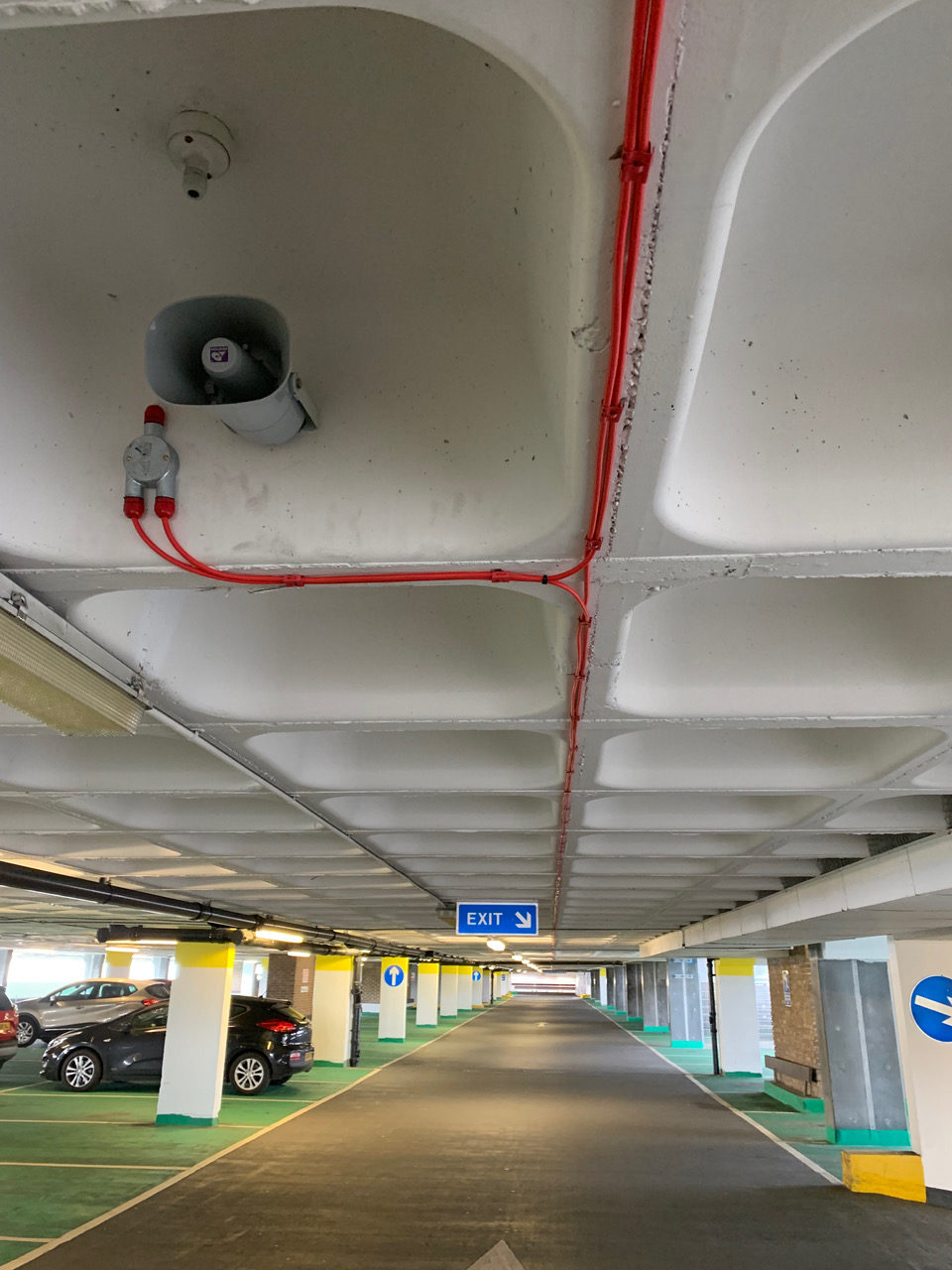 Main equipment
Visual checks for system main equipment, microphones, field wiring and loudspeaker fixings.
Emergency messages, fire officers' microphones, and paging consoles will be checked for correct operation.
Fire alarm interface connections will be tested for correct alert and evacuation procedures and fault monitoring to fire alarm systems.
All battery backup supplies will be checked for physical condition and sufficient backup power capacity in acordance with BS5839 pt8. Battery charging supplies are also checked for performance. Fault simulation of amplifiers, power supplies, microphones and loudspeaker circuits will be activated to test for fault monitoring.
Additional staff training for new operatives will also be carried out during our visits if required.
Loudspeakers and field wiring
Carry out tests in each zone or area for loudspeaker coverage, confirmation of sufficient audibility and message intelligibility. A full report of any outstanding issues will be issued to the client.
Over the past 25 years, Tech X have become industry experts and leaders in the design, installation, and repair of a wide range of voice alarm and public address systems. Our engineers are experienced with most industry leading equipment, but are also specialist's in bespoke systems. We have a huge amount of expertise working on a large variety of complex systems so you can be rest assured that our senior technicians will be familiar with your set up and be the best equipped to rectify any issues.
The team at Tech X takes pride and passion in the work they carry out to deliver voice alarm system solutions to our customers. We work hard to maintain the reputation we have built up by working to the highest of standards through the design, installation, commissioning, and follow up service helping us to build long lasting relationships with our customers. We work tirelessly to deliver above and beyond expectations and to ensure our customers are always left completely satisfied with our work.
We are also experts in the latest industry standards allowing us to provide consultation to clients in replacing and refurbish existing public address and voice alarm systems (PAVA systems) in order to achieve compliancy with the latest regulations for PAVA systems in accordance with BS5839 Pt 8, EN54-16 and EN54-24.
For unknown or if you are not completely sure of an issue to your PAVA system, arrange a Tech X call out to help you understand your problem and discuss a solution with you.
We also provide 24 hour, 7 day ongoing system support for all voice alarm systems.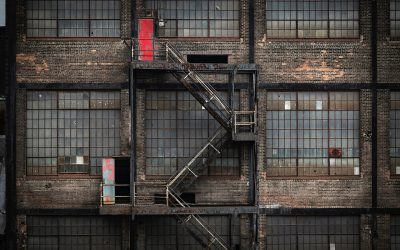 EN54 - Fire detection and fire alarm systems is a series of European standards that includes product standards and application guidelines for fire...
read more
If you have a project you would like to discuss please get in touch!